Futu Trustee – Gold Sponsor of STEP Asia Conference 2022
Futu Trustee, a wholly owned subsidiary of Futu Holdings Limited (Nasdaq: FUTU), recently announced that it has become a Gold Sponsor of STEP 2022 Asia Conference, organized by the Society of Trust and Estate Practitioners, an accredited international professional organization for trust advisors and practitioners.
The committed premium sponsorship illustrates Futu Trustee's strategic position to increase its presence in Asia to provide customized trust and family office services with the objective to offer one-stop wealth planning and asset protection solutions to high-net-worth individuals and families.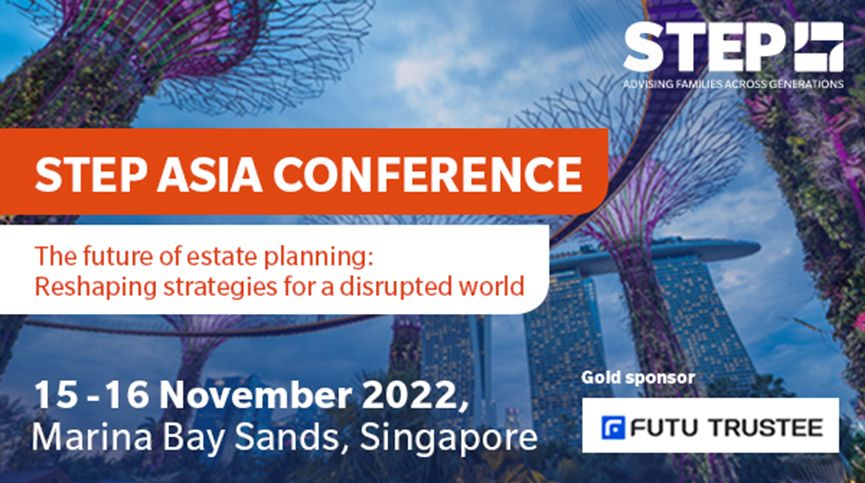 After two years of virtual meetings, the STEP Asia Conference resumes face to face event in Singapore on 15-16 November 2022. The theme of this year is "The future of estate planning: Reshaping strategies for a disrupted world".
Come and meet our advisors at the Conference for more insight about wealth protection and intergenerational succession.
For more information about the Conference, please click here.
About Futu Trustee
Futu Trustee Limited and Futu Trustee (Singapore) Pte. Ltd. (collectively "Futu Trustee") provide one-stop wealth management solutions for corporate clients and high net worth individuals and families, and revolutionizes service delivery for ESOP Trust Administration, Family Trust and Family Office through the means of information technology. Futu Trustee possesses a team of industry veterans from world-class independent trust companies, banking, accounting, family offices, taxation and compliance advisory background and as such enables the company to provide full-fledged of trust services.
Futu Trustee Limited is a trust company registered under the Trustee Ordinance (Chapter 29 of Laws of Hong Kong) and holds a Trust and Company Service Provider License (No. TC006475) pursuant to the Hong Kong Anti-Money Laundering and Counter-Terrorism Financing Ordinance (Chapter 615).
Futu Trustee (Singapore) Pte. Ltd. is a Singapore company licensed and incorporated under the Trust Companies Act, and has obtained the Trust Business License (No. TC000074) issued by the Monetary Authority of Singapore.
The information of this article is for reference only and is not intended to provide any legal, tax or other advice, nor should it be considered for such purposes. Clients are recommended to seek professional advice. The content of this article is based on reliable sources at the time of making it and it is subject to revision by our company without notice.